Live Concerts, Music, Plays, Stage Shows & More
ALL MCS SHOWS ARE HELD AT THE CHESAPEAKE ARTS CENTER
194 Hammonds Lane, Brooklyn Park, MD 21225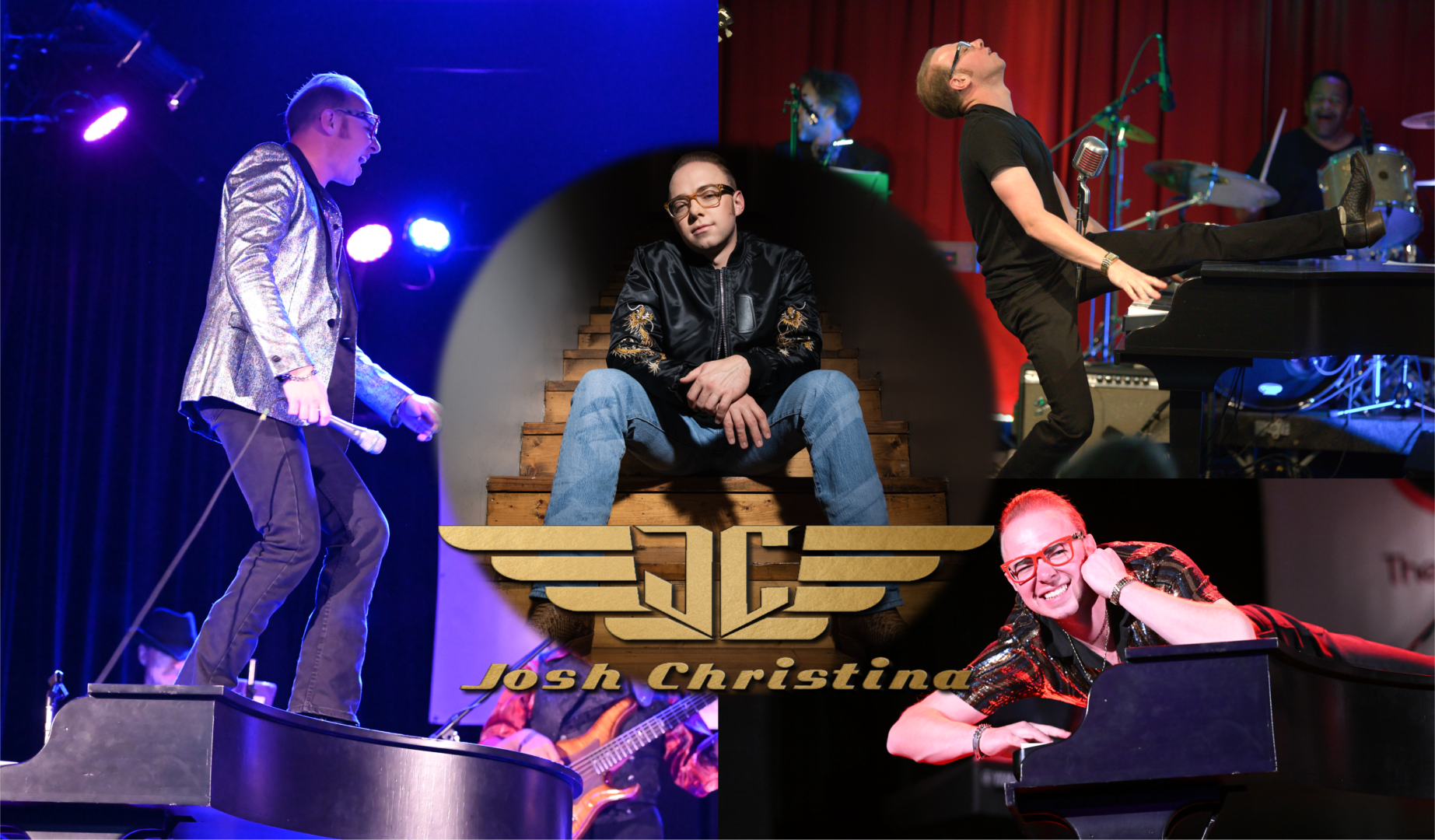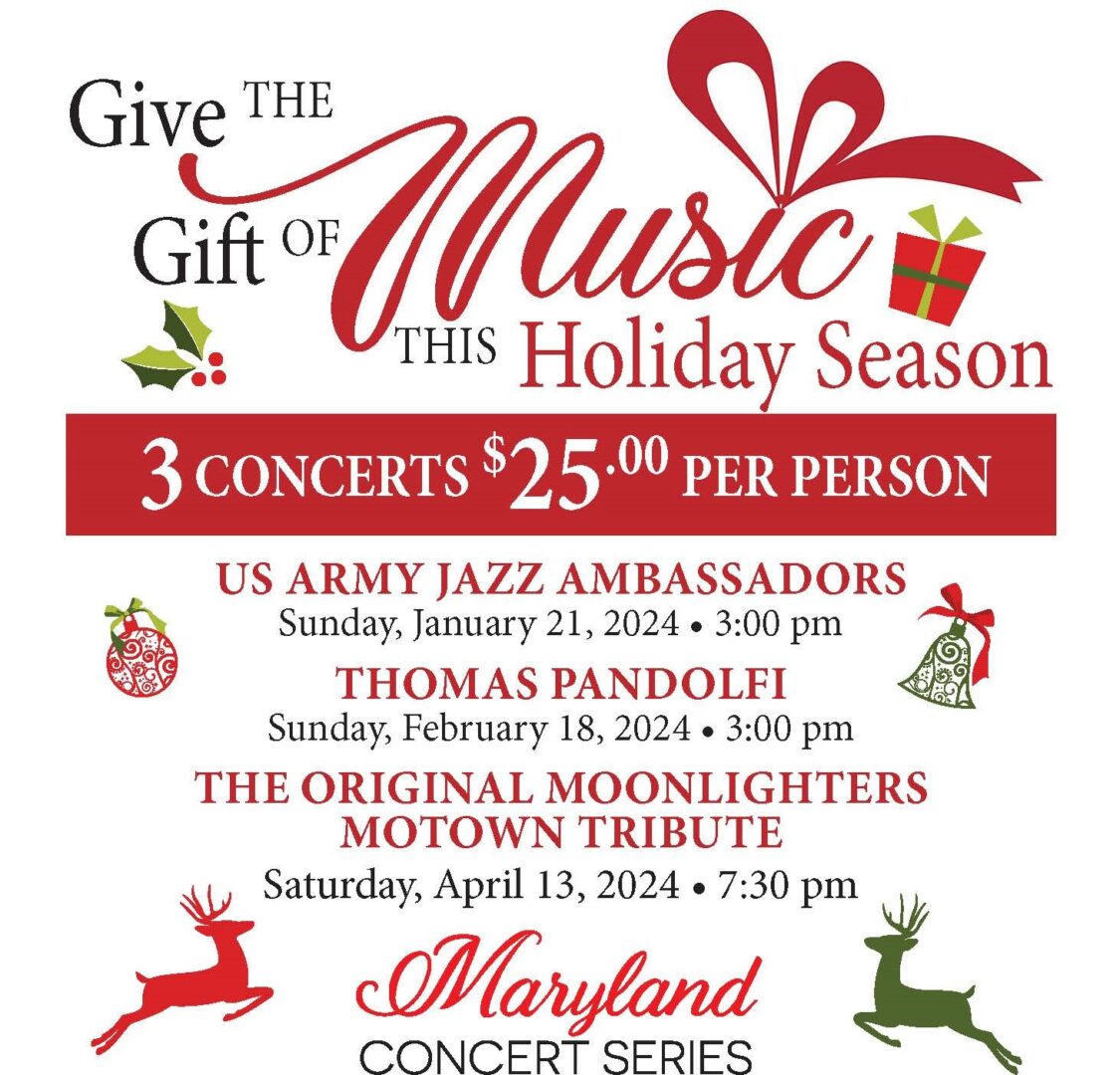 2023 - 2024 SEASON PERFORMANCES
October 21, 2023 - Saturday - 7:30pm - Josh Christina
A night of piano rock with Josh Christina! Playing everything from Jerry Lee Lewis to Elton John, Ray Charles to Billy Joel and everything in between. Chuck Berry's former pianist and band leader, Daryl Davis, calls Josh "the future of rock and roll."  A high energy show the whole family can enjoy!
November 12, 2023 - Sunday - 3:00pm - Shenandoah Run

Shenandoah Run is comprised of founder Bob Melissinos (vocals and guitar), Jill Nelson (vocals, guitar and percussion), Ben Hamblin (vocals and guitar), Renee Moyer (vocals and percussion), Leslie Smile Hoyle (vocals and fiddle), Joe Dickey (banjo), John Werntz (bass), Jim Johnson (vocals, guitar, mandolin). With a winning blend of voices and instruments, our performances attract large, often "sold out" audiences of as many as 1,200 patrons. For events such as summer concert series, SR regularly attracts some of the largest audiences the venues have experienced. Shenandoah Run has become a favorite at a variety of venues in the Greater Washington metropolitan area and beyond.
December 17, 2023 - Sunday - 3:00pm  -  Anne Arundel Community College & Symphony Orchestra Christmas Extravaganza

Home for the Holidays—A Christmas Show
Do you love a sentimental Christmas? Inspired by the rich history of Christmas shows and productions throughout the world, director Douglas Brandt Byerly has staged scenes that feature the heartwarming songs from some of your holiday favorites, including excerpts from A Christmas Carol, The Messiah, White Christmas, and much more.  The professional soloists, along with the chorus, dancers and orchestra conducted by Dr. Anna Binneweg will take you through a holiday treat that captures the Christmas spirit.
January 21, 2024    - Sunday      - 3:00 pm - US Army Jazz Ambassadors
The United States Army Jazz Ambassadors tours as directed by the Department of the Army.  The performance is free and open to the public. Bring as many friends and family as you want.
February 18, 2024 - Sunday - 3:00 pm - Thomas Pandolfi
Thomas Pandolfi began his music career early on at The Juilliard School (BM & MM) where the young prodigy caught the influential ears of Vladimir Horowitz, who would become his mentor, and legendary composer, Morton Gould. Since then he has been an audience favorite, selling out the world's most prestigious stages, including Lincoln Center Alice Tully Hall, Strathmore, The Kennedy Center, Kiev Opera House, Bucharest's Romanian Athenaeum, London's Cadogan Hall, and many others. In addition to being hailed as one of the greatest interpreters of Polish masters such as Chopin and Paderewski, this versatile pianist has received accolades from every thing from Bach to Gershwin, with Morton Gould saying, "It's the finest performance of Gershwin I have heard since the composer himself." His original and virtuosic transcriptions of works such as West Side Story and Phantom of the Opera, are one-of-kind, jaw-dropping, and dramatic encores that keep audiences of all ages returning to his performances again and again. Maestro Pandolfi is a Steinway Artist and when he is not on tour, resides in Northern Virginia. 
April 13, 2024 - Saturday -   7:30 pm - The Original Moonlighters Motown Tribute

Since 1990, The Moonlighters ® have been performing throughout the U.S. as one of the country's best-loved and most authentic Motown and variety dance bands. Just close your eyes and you'll swear the original artists are performing. But don't close them for too long or you won't be able to enjoy their outstanding dance moves and showmanship. Famous for getting guests out on the dance floor and more importantly, for keeping them there, The Moonlighters ® are experts at reading the crowd and gladly take requests, making their performances highly entertaining and interactive as audiences just feed off the band's energy and vice versa. 
As seen again and again in their many rave reviews, The "Original" Moonlighters ® are dedicated professionals truly committed to making each and every show an experience to remember. Meticulously groomed and costumed, their performances are custom-tailored to each audience and occasion, providing the 'soundtrack' for your next special event!
Performing Arts & Cultural Events in Maryland
Maryland Concert Series (MCS) is dedicated to cultivating a vibrant cultural community where the arts thrive. We bring live performing arts to Anne Arundel County and the State of Maryland. We are an all-volunteer, community based, non-profit organization. MCS provides a wonderful opportunity for family and friends to enjoy a wonderful evening together with minimum expense.
We are proud to be certified by the Standards for Excellence Institute. The Standards for Excellence is a national initiative established to promote the highest standards of ethics, effectiveness, and accountability in nonprofit governance, management, and operations, and to help all nonprofit organizations meet these high benchmarks.  They provide nonprofits with a common sense approach to achieve the highest standards in governance and management, while at the same time focusing on the people and communities the nonprofit serves.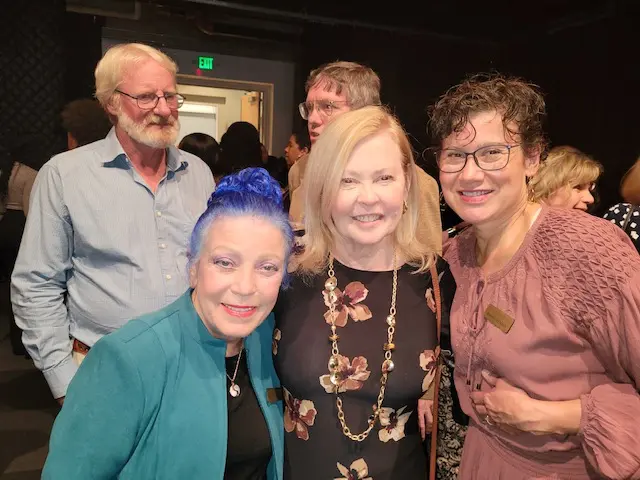 See our Sponsors on our "About Us" page. To donate any amount of money to MCS, go to our "Events/Tickets/Donations" page.